Camp Holloway Introduction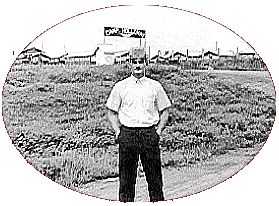 Main Entrance Gate in 1963 from Highway QL 19
Author's Statement and Purpose
Prior to creating this web site and publishing these photos there was not a web site designed for Camp Holloway anywhere on the internet. This web site began in late 1996, then moved to the present provider in early 1997 before it was submitted to the search engines for listing, and later a guest book and a photo album were added. I started with dozens of my old photos from a time when few people even knew where Vietnam was or that Camp Holloway existed. The site was developed mostly from the events I photographed and experienced during the early airbase history. I later added more on the overall history with some of the sights and sounds from those Camp Holloway years and the key events which changed our course of action.
Thanks to Keith Penman of the 70th Signal Detachment for sending the original 1966 Memorial Dedication Program and thanks to Mick Stevens for sending the photos of that February 1966 Ceremony. Thanks to Jim Morgan and Jerry Simpson of the 81st Trans Co., Linda Clotfelter Waldron, Bob Kilpatrick, Bob McFall, Bob Whitford, Roger Sowell and others for submitting copies of their patches, photos, and for spreading the word about the web site. Thanks to Ray Bows for both offering and licensing this website exclusive use of photos and stories about CWO Holloway, the early history of the airbase, and the dedication ceremony contained in his book. Thanks to Bruce Bartow, combat photographer with the 52nd Aviation Battalion, who sent some yearbooks and his photos of the Memorial Wall at Camp Holloway which was built to honor all those who made the ultimate sacrifice. Thanks to Gary Roush of VHPA and Larry Russell of VHFCN for listing Camp Holloway with the aviation unit and history links and helping get the Camp Holloway web site recognized. I am proud to be the author of one of the first web sites to honor the men and the units of Camp Holloway and bring their efforts and history to the attention of people, students of history, and other veterans. It has spirited the development of new Camp Holloway sites by other veterans wishing to tell their special stories of the units from other years.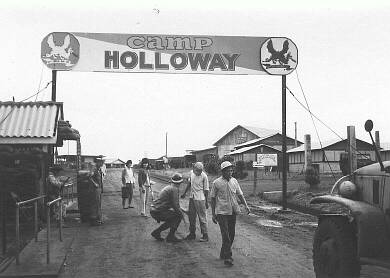 1965 main gate photo courtesy of Chuck Holloway
The other main purpose for this web site is to locate Camp Holloway veterans and reunite old friends while providing additional insight into those very early years not often mentioned or written about by others. Please take the time to look through the archives on the main page and sign the guest book if you served there or knew people from the units. There are many veterans looking for their old buddies and you could be one of those they are trying to find.
For historic accuracy, most of the photos on these web pages of the aircraft, missions, units, people, villages, etc. were taken by me from August 1963 through September 1964. For other photos and material I have added a notation indicating the time line and the name of the contributing individual. The Camp Holloway units I remember during the time period of my tour were the 52nd Aviation Battalion (Flying Dragons), the 119th Aviation Company (Black Dragons), the 545th Transportation Detachment - C.H.F.M., the 70th Signal Detachment - Avionics, the 94th Medical Detachment, a 219th L-19 Bird Dog Unit, the 18th Airfield Operating Detachment, and a 57th Medical Heli-Ambulance team. An early 17th Aviation otter unit went to Nha Trang, and a mixed 68th Aviation unit went to Qui Nhon. The 52nd Aviation Bn was the first unit in the Army called an aviation battalion. The 52nd was originally a transportation battalion of mixed rotary and fixed wing aircraft based in California. Many other units were assigned to Holloway in the years that followed and many of those units have been recalled by fellow veterans while signing the guestbook, which in itself is so many pieces of history. I have also provided a link page to the webrings, helicopter pilot, crew member organizations, and other units with Vietnam related web sites. As the number of Vietnam veteran web sites increases on the internet, I anticipate many other Camp Holloway web sites covering various unit histories and hopefully they will include photos and stories.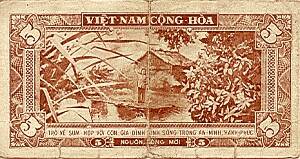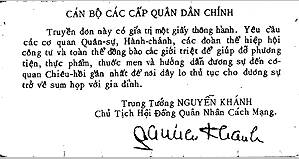 U.S. helicopters equipped with loudspeakers for psywar operations dropped these leaflets
offering safe passage to Viet Cong sympathizers who rejoined South Vietnam's national side.
Initially as Expeditionary Forces of advisory teams with the United States Army Support Group, Vietnam our mission was to assist and support the South Vietnamese Army ( ARVN ) and U.S. military advisors in defending South Vietnam against the oppression of their people and prevent the spread of communism (Domino Theory) throughout Southeast Asia. The early Camp Holloway units did what they were called upon to do and the men understood their mission even with the initial restrictions in the rules of engagement (ie: acquire permission to fire and only when fired upon) which changed as communist tactics changed. Many units served at Camp Holloway over its 10 1/2 year history as the U.S. mission expanded with more direct action under MACV ( Military Assistance Command, Vietnam ). The bravery of many young men, the use of heavily armed helicopter gunships on assaults, and the mass airlifting of ARVN troops and American advisors into Hot LZs in combined ARVN and MACV military operations were to become routine. By 1963, Vietnam was a country deeply embroiled in civil unrest, political and military corruption, and religious turmoil as communist insurgents continued pushing down the path to an all out war. The fighting in the Central Highlands of Vietnam intensified through 1963 and 1964 as Special Forces and CIDG camps were subjected to ever increasing communist attacks. Supporting helicopter flight crews encountered ever inceasing hostile fire and then short periods of low Viet Cong activity after which it would randomly intensify again in new areas as guerilla tactics knew no boundaries. This was only a precursor to the events of the early morning hours at Camp Holloway on 7 February 1965 that led to a change in United States foreign policy and military involvement in Vietnam.
The early units installed and battle tested the many helicopter weapons systems and configurations as they were being developed and first experimented with night missions, ground control radar, and night approaches to LZs. They worked out some of the bugs in the XM-6 rocket pods and machine gun mounting kits, the need of spare barrels for the door gunner's M60 machine gun, the first 48 rocket XM-3 gunship kits, and found early structural problems in airframes. They retrofitted the new long range SSB antennas and communications radios, amps and speakers on psywar hueys, and developed air mobile techniques and contour flying in combat assaults during troop insertions; provided gunship escorts and air support, recons and medevacs, and extracted troops from hot LZs in what has been defined as The Helicopter War. The aircraft were repaired and put through their scheduled maintenance with 24 hour, all day and all night, shifts as needed to have them back flying the next day. The pilots, aircrews, and maintenance crews were skilled and demonstrated professionalism in their tasks and unselfish courage in direct air support of other units regardless of the imminent dangers involved.
The following decorations and citations were received for actions in Vietnam from 1962 through 1973.
52nd Aviation Battalion Awards and Citations

Presidential Unit Citation (Army) - Streamer Embroidered DAK TO DISTRICT



Valorous Unit Award - 2 - Streamers Embroidered PLEI ME and DUC CO



Republic of Vietnam Cross of Gallantry w/ Palm - 63-66, 66-67, 67-68, 69-70, 70, 70-72



Republic of Vietnam Civil Action Honor Medal - 2 - 1970, 1971



119th Aviation Company Awards and Citations *

Valorous Unit Award - 2 - Streamers Embroidered PLEI ME and DUC CO



Republic of Vietnam Cross of Gallantry w / Palm - 3 - 66-67, 67-68, and 70



Republic of Vietnam Civil Action Honor Medal - 1- 1970

(* Note: The 119th Aviation Company was inactivated in 1970)


For Lineage and Honors of Aviation Units go to: The U.S. Army Center of Military History


U.S. Army Support Group Vietnam, Commanding General Joseph W. Stilwell Jr. (1912 - 1966) had a special regard for the Camp Holloway units and would visit whenever he could for peptalks to all the men and he tried to see to it the units had whatever they needed. He was hands-on and made a reputation with his parachute jump into an awards ceremony being run by NCOes. He test fired the machine guns occasionally on helicopter missions from the rear door gunner's position and he loved flying and wanted to be a pilot. He made sure the base had plenty of ice cream as an extra reward for their performance. Brigadier General Joseph W. Stilwell Jr. was killed in 1966 when his aircraft crashed in the Pacific as he was flying back to Vietnam. Early crew members who had instincts to become pilots received unofficial lessons from some of the pilots in the event an emergency should arise, and that formed an even deeper bond among those pilots and the aircrews. General Westmoreland then came to command MACV; he kept abreast of unit operations; awarded medals for meritorious achievement, and attended the Memorial Ceremony at Camp Holloway in 1966.
I remember meeting and shaking hands with Raymond Burr (1917 - 1993) of "Perry Mason" fame in 1964 when he stopped in to boost morale and chat, and he took the time to spend an entire evening at the enlisted men's club. WWII cartoonist Bill Mauldin (1921 - 2003) came and visited his son Bruce who was a pilot stationed at Camp Holloway. He was also witness to the February 7th, 1965 attack during his stay at the airbase.
The men of the Camp Holloway units worked hard, set the standards, and passed on lessons learned to other brave American soldiers who followed and carried on with the mission. These pages are a tribute to those efforts, and especially to those who made the Ultimate Sacrifice. Please take a few minutes to Read This Story which is on another website to understand what some soldiers had to endure while in Vietnam.

Vietnam War Medal of Honor Citations from The Center of Military History
Names of All Recipients A through L
Names of All Recipients M through Z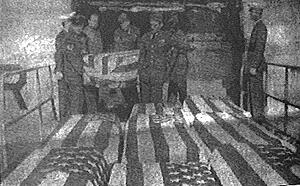 Casualties of February 7, 1965 attack being returned to the United States for burial
Courtesy of Ray Bows photo collection on Camp Holloway
* * * * * * *
Captain John D. Mustard wrote the following and an Official Journal on the February 7, 1965 Attack on Camp Holloway
"At the time of writing by me, we did not know that the NVN Company had sent sappers up the runway to satchel charge the slicks. We lost mostly slicks, but they did a number on us. At 2 AM, the rounds landed! I leaped into my clothes, and went out side to the foxhole. One of the enlisted men was there, and when I said "Where are the others?" he told me that most had been wounded."

"The mortars hit the HQ enlisted barracks pretty hard, but stopped short of our officer quarters. The nearest round to us hit the sandbags on the COC. I helped ensure that the perimeter was manned, then went to the COC to begin the counterattack, and I directed the gunships in their search for the NVN. Of course, it was dark, and we never found them until the next day, and the 119th was successful in killing several, and we captured the NVN Company Commander's diary. I suspect that we probably killed him. They had spent several months coming down from North Vietnam specifically to hit us."

John D. Mustard
CPT, FA, Asst S-3
Headquarters,
52d Aviation Bn


* * * * * * *
Camp Holloway was one of the very first American bases to come under direct attack by a Viet Cong battery of ten heavy mortars in the early morning darkness on February 7, 1965. On that day 8 U.S. soldiers died ( 7 from Holloway and 1 from nearby MACV ) and over 100 of the 180 Americans stationed at Camp Holloway were wounded as rockets and mortars found their targets. Severe damage was done to the aircraft and all but three were heavily damaged by sappers pitching charges in a chain reaction that seemed never ending. Debris covered the airfield and rows of barracks burned throughout the compound. The next day helicopters from Nha Trang and Qui Nhon joined the patched up helicopters that could be flown from Camp Holloway and initiated a search for those responsible for the attack. In the two days that followed a group of the Viet Cong attackers were located and neutralized. Being a key airfield supporting military operations throughout the Central Highlands and border areas, it became a prime target for a communist attack. The attack was coordinated with attacks on other neighboring ARVN and MACV compounds. There was an immediate "Flaming Dart" response with the bombing of North Vietnam marking the beginning of a new policy by President Johnson and his cabinet members and other advisors. Three days later on February 10, 1965 the Viet Cong blew up some enlisted men's barracks at another base near the South China Sea east of Camp Holloway at Qui Nhon killing 24 and wounding 21 U.S. soldiers and a bombing of North Vietnam in response. These were the early defining moments of a shift in policy toward deeper involvement and stepped up action by United States military forces in Vietnam during President Johnson's and President Nixon's administrations.
Camp Holloway Site Index
* Indicates the page you are currently viewing

Copyright 1997-2004 Camp Holloway All graphics and photos are proprietary.
All rights reserved. Non-profit website designed and funded by the author